YOME NI KONAI KA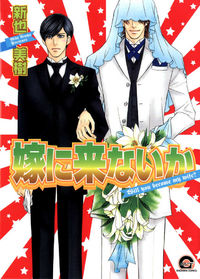 4.83

(128 votes)

嫁に来ないか; 嫁に来ないか~呉服屋の嫁~; Gofukuya no Yome; Will you become my wife?; Yome ni Konaika
Comedy, Mature, Yaoi
Completed
6295th

Vol. 1 Keigo is single and one day mentions that it would be nice to have a wife to greet him when he returned home. That day he comes home to be greeted by a smiling man welcoming him home, and the man says that he will be Keigo's wife!
Advertisement
Read Yome ni Konai ka Online
Facebook Comments
MH Comments

()