SAIKI KUSUO NO PSI NAN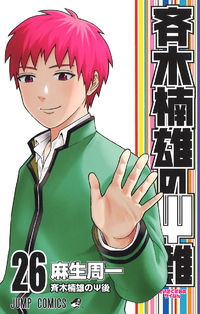 4.92

(342 votes)

斉木楠雄のΨ難; 超能力者齐木楠雄的灾难; Chounouryokusha Saiki Kusuo no Ψ Nan; PSI Kusuo Saiki; Saiki Kusuo no Ψ Nan; The Disaster of PSI Kusuo Saiki
Comedy, School Life, Shounen, Supernatural
Ongoing Saiki Kusuo no Psi Nan 28 will coming next

974th

Saiki Kusuo has a wide array of superpowers at his command, including telepathy and telekinesis. This might sound awesome, but, in Kusuo's experience, superpowers are not all they're cracked up to be. He tries to live a normal life, despite his annoying abilities.
Advertisement
Read Saiki Kusuo no Psi Nan Online
Facebook Comments
MH Comments

()