ONEECHAN GA MAMOTTE AGERU!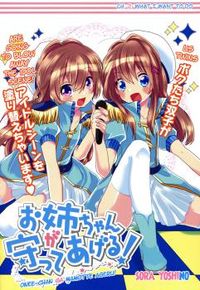 4.59

(82 votes)

お姉ちゃんが守ってあげる!; I will protect my Onee-chan!; Onee-chan ga Mamotte Ageru!
Gender Bender, Shounen Ai
Completed
9315th

Kairi Shinonome's younger twin brother, Anri, has been dressed as a girl since birth by their mother. One day, Anri goes to an idol audition. Kairi cross-dresses as well to go and stop him, but unexpectedly they both end up scouted as idols!
Advertisement
Read Oneechan ga Mamotte Ageru! Online
Facebook Comments
MH Comments

()