OMAERA ZENIN MENDOKUSAI!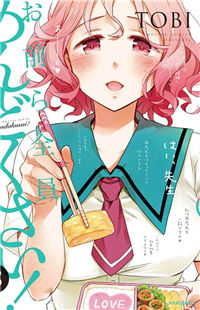 4.53

(478 votes)

お前ら全員めんどくさい!; 你们这些家伙真麻烦; You're all annoying!
Comedy, Harem, Romance, School Life, Seinen
Ongoing Omaera Zenin Mendokusai! 25 will coming next

294th

For some reason, Kunitachi Kunihiko, a language arts teacher, always finds himself quarreling with his student, Ichimiya Kazumi, an anti-social girl without any friends. When he tells her to make some friends, she declares: "Be my friend, Sensei."
Advertisement
Read Omaera Zenin Mendokusai! Online
Facebook Comments
MH Comments

()