OKUJOU NO BAI-BAI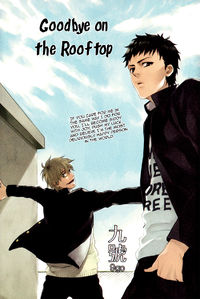 4.71

(73 votes)

Bye-Bye on the Rooftop; Good-bye on the Rooftop; Okujyou no Bye-Bye
Drama, School Life, Shounen Ai
Completed
10498th

Nogi is the fearless and respected karate black-belt who beats up bullies without breaking a sweat. But to Fujiwara, he's just "Kei-chan", best friend and object of his secret affections. Can their friendship survive? Or develop into something more?
Read Okujou no Bai-Bai Online
Facebook Comments
MH Comments

()