MY BROTHER AND BOYFRIEND AND HE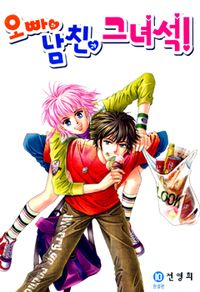 4.81

(81 votes)

오빠와 남친과 그녀석!; Anh, bạn trai và người ấy; Brother, Boyfriend, and The Guy; My Brother, Boyfriend, and He
Comedy, Drama, Romance, School Life, Shoujo
Ongoing My Brother And Boyfriend And He 7 will coming next

7183th

Brother always reject girls around him! Despite having an ideal boyfriend by her side, his charm is still not enough to attract her, because he is always by her side.
Advertisement
Read My Brother And Boyfriend And He Online
Facebook Comments
MH Comments

()