MUHYO TO ROUJI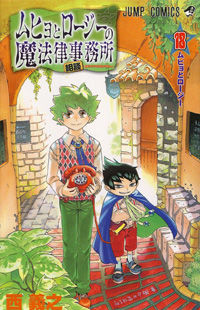 4.95

(140 votes)

ムヒョとロージーの魔法律相談事務所; 魔法律事務所; 무효와 로지의 마법률 상담 사무소; Muhyo & Roji; Muhyo & Roji's Bureau of Supernatural Investigation; Muhyo & Roojii; Muhyo and Roojii's Magical Law Consultation Office; Muhyo to Rooji no Mahouritsusoudan Jimusho; Muhyo to Roojii; Muhyo to Rouji; Muhyo to Roujie; Muhyo to Rouji no Mahouritsu Soudan Jimusho
Action, Comedy, Horror, Mystery, Shounen, Supernatural
Ongoing Muhyo to Rouji 134 will coming next

4583th

From Viz: Are you a victim of unwanted spirit possession? Is there a ghost you need sent up and away...or down to burn for all eternity? If the answer is yes, then you need Muhyo and Roji, experts in magic law. Serving justice to evil spirits is their specialty.
Advertisement
Read Muhyo to Rouji Online
Facebook Comments
MH Comments

()